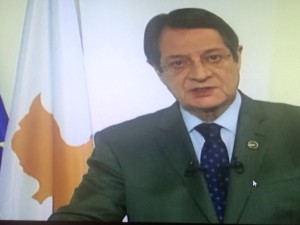 United Nations, 11 February 2016
Ladies and gentlemen,
I am greatly honoured to be a part of this high-level Forum on the occasion of the first annual International Day of Women and Girls in Science.
I would have much preferred to be able to participate in the Forum and be among you. Regrettably, prior commitments, in particular related to the ongoing negotiations for a comprehensive settlement of the Cyprus problem, have prevented me from traveling to New York.
I wish to thank the organizers of this event, including the Royal Academy of Science International Trust and its Executive Director, Her Royal Highness, Princess Dr. Nisreen El-Hashemite, and recognize their immense contribution to promoting the participation of women and girls in science.
Despite positive developments, progress toward achieving gender equality and the empowerment of women and girls has been slow and uneven.
As regards education, there has certainly been great progress since the Beijing Declaration and Platform for Action and the outcomes of the twenty-third special session of the General Assembly on the enrolment of girls and women at all levels of education.
However, the percentage of women in science and engineering studies remains significantly low. Women and girls still face discrimination when it comes to access to education, the workplace and the pursuit of a career.
It is important to continue our work toward gender equality, including equal access to education, as it is critical for achieving the 2030 Agenda. Sustainable development and sustained, inclusive and equitable economic growth, cannot be achieved without gender equality and without half of the world's population realizing its full potential and human rights.
I am pleased to inform you that Cyprus has achieved positive developments in the area. We will continue working toward this aim, both at home and abroad. Nationally, through a number of policies that address gender role stereotypes and social prejudice. Internationally, we will continue to advocate and work for greater gender equality and for increasing the participation and access of women and girls in science and technology.
In concluding, I wish to address all women and girls and, recognizing the significant barriers and difficulties that they face in pursuing a more active involvement with science and technology, urge them to not be discouraged and assure them that we will continue to stand by them.
Thank you.